The Highest Grade of Cacao Beans & Paste
If you are searching for wholesale suppliers that can offer you the highest grade of cacao beans and cacao paste on the market, then you have come to the right place. Cosmic Cacao produces a wide range of chocolate products at affordable prices, including but not limited to cacao beans in bulk or wholesale sizes. From cacao beans to cacao paste that you can use to make hot chocolate drinks and more, we got it covered!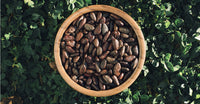 Bulk Cacao Beans, Paste, & Nibs At Any Size
We offer bulk cacao nibs that can be used to create your chocolate bars, smoothies, or other confections, or to add a nutrient boost to your favorite recipes. These organic cacao nibs, beans and paste have been grown and processed without chemicals or additives. 
We farm and sell quality organic cacao nibs in the US at affordable prices. We have been in business for years and has built strong relationships with our clients. Our clientele includes individuals, small businesses and large corporations. 
Contact Us for Bulk Orders
Bulk & Wholesale Cacao Beans Supplier Serving the United States
Cosmic Cacao serves not only customers who wish to buy small sizes of Cacao for personal or ceremonial use, but also businesses who need cacao to serve customers and anyone who wants to buy in bulk. Our bulk wholesale cacao nibs and other bulk cacao products are high-quality, organic, and ethically sourced.
We produce a wide range of cacao products at affordable prices, including but not limited to cacao beans and paste. We sell directly to customers in small sizes, including our customer-favorite 1 lb bag, but we also sell to those who need bulk cocao products.

Our cacao beans and paste are sold in bulk or retail packaging depending on your needs and preferences as a customer, reseller, or for use in the products you make. We also offer discounts for bulk orders, so you can save even more money when purchasing our high-quality products! 
All Sizes of Organic Cacao Nibs, Beans & Paste
You can purchase our Cacao producrs in any size, from little 1 lb to large sizes like 50 lb and above. So whether you're looking for the perfect product to add more cacao nib love to your store or just want a little chocolate treat for yourself and your family, we got that covered. 
We strive to ensure our customers enjoy only the best cacao. As a buyer, you can rest assured that we will provide only the best cacao beans, paste, or nibs for your business or personal needs.
We work hard to ensure that each of our clients receives exactly what they need from us, whether that is a ton of cacao beans or smaller orders.
Order Today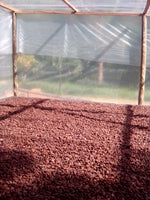 We Offer High-Quality Cacao Beans & Paste In Bulk Quantities At Wholesale Pricing
Our cacao beans, nibs and paste are the highest quality you can find. In addition to being organic, our beans are fair trade and can act as a lovely addition to your kitchen or business. To get more bang for your buck today, get in touch with our team to order your bulk cacao products by using the form below.
Order Small Sizes Online or Contact Us for Custom Bulk Orders
If you are looking to get a small taste of our cacao, you can peruse the price of our cacao beans and paste below and order online. For bulk orders, kindly reach out to us today.
Cosmic Cacao Paste / Brick (1 lb)
Frequently Asked Questions
Cacao Nibs are the seeds of the cacao fruit that grow on Theobroma cacao trees. They are roasted, ground, and made into cacao powder, butter, and chocolate. They can also be eaten whole as a snack or used in cooking.
Cacao nibs contain caffeine and theobromine like other beans, but they don't have any milk solids, so they're more nutritious than regular chocolate. Cacao nibs are packed with antioxidants, minerals, fiber, and vitamins that can help boost your immunity and improve digestion. They're high in fiber which helps lower cholesterol levels and keeps you feeling full longer, so they're great for weight loss!
Cacao nibs are great for cooking because they don't contain any fat or sugar, so you can use them in recipes where you want to add chocolate flavor without adding extra calories or fat! They're also great for baking because they don't burn easily like regular chocolate when baked at high temperatures.
Our cacao products are produced ethically and are free from harmful additives like artificial colors or flavors found in other brands on the market today.
We have a farm in Guatemala. You can learn more about the origins of our Cacao here.
Here's more facts on Cacao: Cacao trees grow naturally in their native climate, which is Central America and South America. The trees thrive best at higher altitudes (between 4,000 feet above sea level), where there is a more temperate climate.
The fruit that holds the beans grows on small trees with oval leaves; these fruits are usually red or orange when ripe. When harvested from the tree and fermented to remove their outer skin, they turn brown and develop a rich flavor profile, unlike any other bean!
We hope you find our selection of cacao nibs, beans and paste in wholesale form helpful. If you are looking for a supplier of wholesale cacao beans or other cacao products, please get in touch with us today.
Cacao is an Amazing Superfood With A Rich Chocolate Flavor
Cacao nibs are the raw material for chocolate and have a rich, earthy flavor. Cacao nibs contain more than 60% fat and many other nutrients, including magnesium, iron, and zinc. They also provide an anti-inflammatory boost with their high levels of antioxidants like flavanols.
When you consume our cacao products, you're getting more than just a sweet treat!
We Use High-Quality Criollo Beans in Our Fair-Trade Cacao Nibs
We use high-quality beans in our fair-trade cacao nibs and paste. These are the most flavorful and sought-after bean, and they are used to make chocolate.
Cacao beans are also raw cocoa beans
Cacao is the unprocessed cocoa, so if you are looking for true raw cocoa beans or want cacao beans wholesale, you should order our cacao beans. Each cacao bean comes from meticulous care.