Organic Cacao Farmed In Guatemala

From Bean To Bar -> Ready To Use
About Cosmic Cacao
Cacao is a tool for opening the heart, activating the mind and body, and inspiring states of blissful well-being. Our cacao paste is perfect for crafting ceremonial cacao beverages, cooking, or making chocolate. It is the highest plant-based source of iron, a powerful antioxidant, and a natural antidepressant. Cacao not only helps with relaxing, it has been proven to have some health benefits such as lowering blood pressure. Cacao is also a productivity-boosting alternative to coffee, and a recreational or social alternative to alcohol and stimulants. Review our various cacao products below and buy cacao to enjoy anywhere, anytime.
Purchase Cosmic Cacao Bricks & Beans
100% Pure cacao paste, for beverages or baking.

Origin: Guatemalan Jungle, Alta Verapaz, Cahabón
Buy Cacao
COSMIC RECIPES from organic raw cacao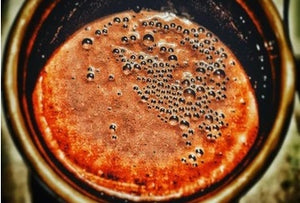 Ceremonial Cacao Drink
Brew cacao with our unique mix of spices, based on traditional Maya and Aztec ceremonial recipes.
Drink of the Gods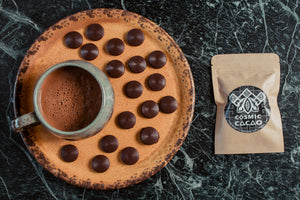 Gourmet Chocolate
Learn to make fine dark chocolate with our cacao and impress your friends and your tastebuds.
Dark Chocolate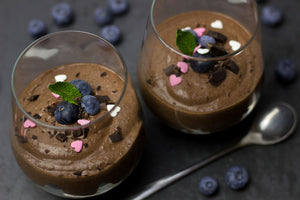 Cacao Avocado Mousse
Deep rich vegan dessert with smooth texture and delicate taste made with cacao.
Mousse
Testimonials
"Wow this Cosmic Cacao is the ultimate fuel for the studio!! Quality, dark, rich, and smooth, a cup of this will give wings to your creative inspiration." 
Amani of Desert Dwellers
"After sampling many types of Cacao from Central America I came across Cosmic Cacao and finally felt like I had ended my search. It has a rich, deep and earthy flavor that brews to perfection. I find the energy from it to be deep and long lasting without the anxious intensity I get from some other Cacao. Well done Cosmic Cacao, I have found my happy place!"
Yuli of Perfect Stranger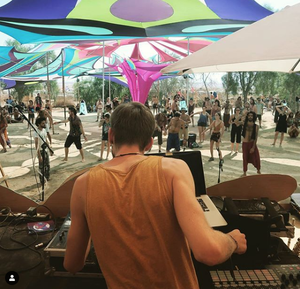 "Been loving the cacao so so much. I have some friends helping out here on the land in Hawaii & we have been making deep chocolate drinks and then working on the Garden & Nature. Perfect." 
Yaegon from Kalya Scintilla & Merkaba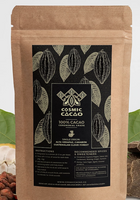 Buy Small & Bulk/Wholesale Cacao
Our cacao is produced in our farm in Guatemela and designed to serve single users who only need a few or bulk cacao for personal use, as well as, cacao stores, cacao smoothie bars, cacao ceremony organisers, and businesses who need cacao in bulk for their various needs.
While you can purchase cacao directly on our website by choosing the size of cacao you want to order, you can also contact us if you are looking to order more cacao than what is provided on our product pages.
We sell organic cacao in bulk to individuals and businesses, including smoothie bars, organic grocery stores, health food stores, and more.
Contact Us
Frequently Asked Questions